Memory
Mod. SECURBAIX – BURGLAR-PROOF CLASS 3 – CERTIFIED UNE-EN 1627:2011.Rolling shutter door in extruded aluminium, approved security standard for doors UNE EN 13.241-1: 2004 and CE certified. Manufactured by straight slats in hardened aluminium alloy of high resistance (Al, Si, Mg and Titanium) double-walled of 85x15x1,5mm, fixed with non-deformable stainless steel plugs, reinforced lower double-wall socket, lateral bearings, lower sealing gasket, and friction-proof nylons. ALOJA GUIDE DUET of 110x80x3 mm + 65x34x3 mm and supports of side plates of 8 mm. Upper shaft reinforced in galvanized steel with steel pulleys, bearings and nylon protections, adapted to the size and weight of the door. Motorization and electronic equipment suitable for measurements, weight, maneuvres number and access to the commercial premises. E-KEY MEMORY SYSTEM (intelligent lock system that prevents damage to the door in case of accidental opening with the lock locked.), side lock and high security euro-cylinder. Lower safety stops manufactured in ABS. The installation will be undertaken by COLLBAIX SECURITY SHUTTERS technical staff or AUTHORIZED SALES POINTS BY COLLBAIX.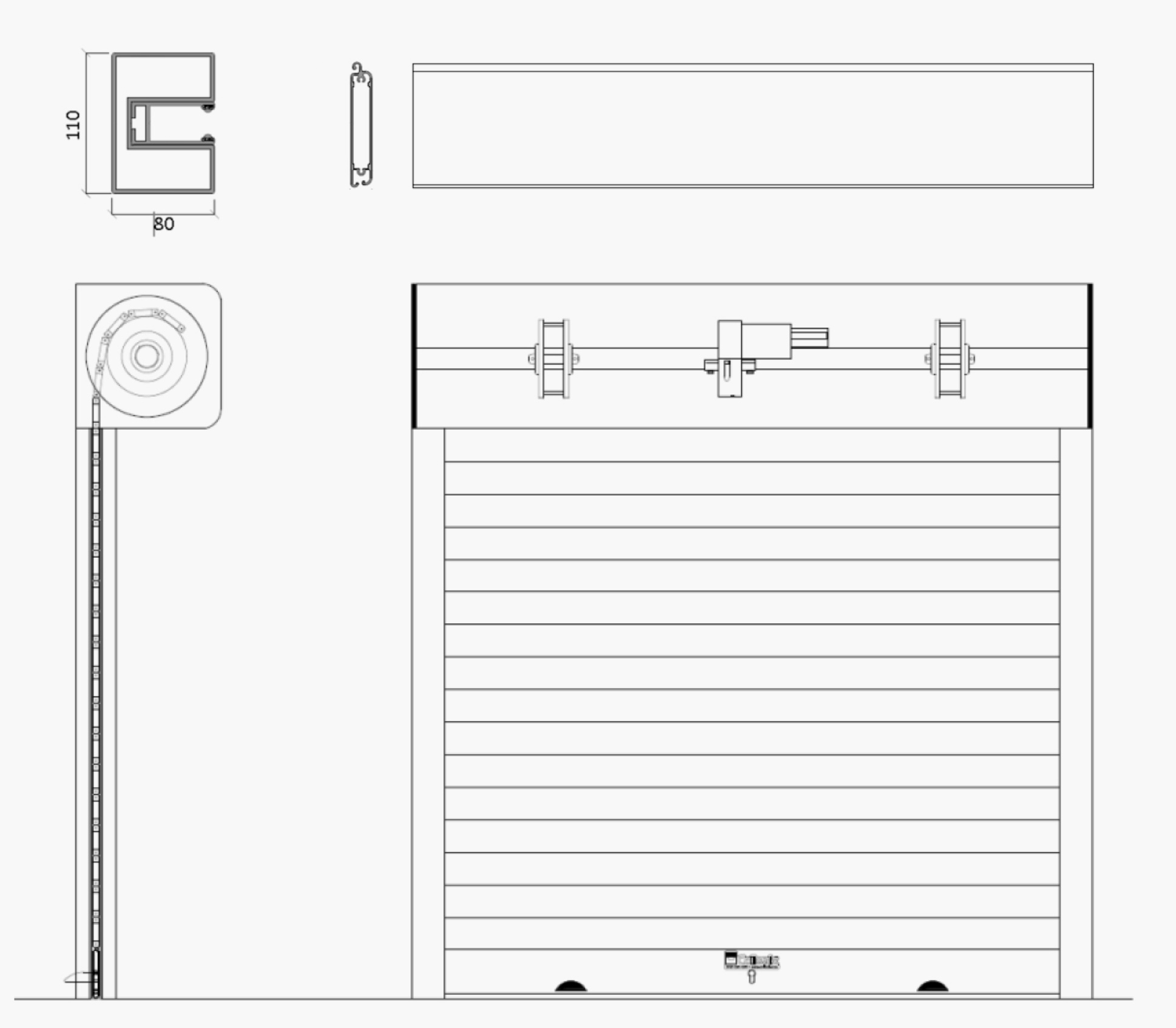 Finishes
Lacquered RAL or Lacquered WOOD / anodized / high-resistance anodized / Imagine ®
Guides
ALOJA GUIDE DUET of 110x80x3 mm thick + 65x34x3 mm guide and nylon for minimum friction (no greasing).
Measures / Weight
8.000 mm wide x 8.000 mm high (guides included). Weight 10,0 Kg/m2 approx.
Motor / Shaft
Single-phase or three-phase electric motors of tubular type and calculated torque for the specific dimensions of each project. Electric powers demanded from 100 to 2,000 W (peak power).
Voltages 100 – 127 V / 220 – 240 V / 380 – 400 V / 480 – 600 V (50/60 Hz).
Lock and automatisms
Automatic electronic equipment 100 - 127V / 220 - 240 V / 380 – 400 V / 480- 600 V (50/60 Hz) and low voltage operation 12 V
Exterior opening system
SECURITY K LOCKER (front guide) / SECURITY K MINI (lateral guide) - Stainless steel, security lock, emergency unlocking handle in case of motor failure or lack of power supply. (Central Motor) and digital membrane keyboards ͋.
͋ Optional elements
Interior emergency system
SELECTORS CONNEX V / CONNEX HOME. It incorporates digital pushbuttons, emergency stop button and emergency unlocking handle in case of motor failure or lack of power supply. CE.
Superior Registration
Aluminum top drawer
Upper register box made of aluminum, with reinforced profiles and support legs made of 6 or 8 mm steel according to the dimensions of the door.
Upper optional DUETPLUS box, made of hardened extruded aluminum of the same material and color as the door. Allows easy access to perform maintenance on the door ͋.
͋ Optional element
Wind resistance
Class 2 (98 Km/h)
Opening speed
0,2 m/s (approx)
Thermal Values
U = 5,34 W / ( m² · K ) - Rt = 0,18 ( m² · K ) / W